Originally opened in 1975 by Dr. LeClair, Corsa Orthodontics has built a reputation as a warm, inviting family practice that has provided high-quality care for patients of all ages. In 1994, Dr. Stephen Yao took over the practice, and in 2016, Dr. Christopher Corsa became our third orthodontist, furthering our reputation by utilizing the skills and experiences he cultivated as an orthodontist in Manhattan, NY, where he cared for the smiles of many high-profile public figures.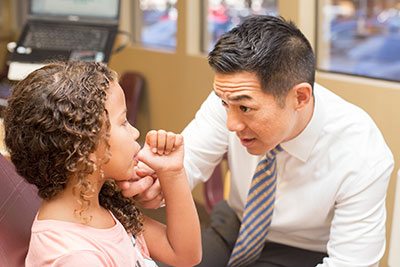 When you visit our office for orthodontic care, your smile is in the hands of highly skilled and experienced dental professionals. Dr. Christopher Corsa received an Ivy League education in orthodontics, performed research at both MIT and Cornell, and is a board-certified orthodontist in the top 1% of Invisalign® providers. Our team consistently furthers their knowledge by attending courses and lectures for the latest dental techniques and technology.
We strive to provide a comfortable, relaxing atmosphere for our patients by keeping our offices spacious and greeting each patient with a welcoming smile. Our younger patients can occupy their active minds with video games and coloring contents as they await their appointments, and everyone is invited to enjoy a fresh-baked cookie and complimentary beverage. If you are looking for a trusted, family orthodontist, we encourage you to visit our conveniently located orthodontic offices at our Camden and Moorpark locations in San Jose, California. Feel free to contact us today!
Join us for a virtual tour of our Moorpark Avenue office!
Caring and competent Orthodontic treatment since 1975
We are a full-service orthodontic practice providing the expert treatment you need to have straight and fully healthy smiles. Dr. Corsa has always kept up with the latest advances in orthodontics, attending advanced training as well as contributing to research in the field. He makes sure his staff is well trained and up-to-date on the latest in orthodontic care.
Education
Many consider orthodontics to be the most difficult field of dentistry. Indeed, Dr. Corsa received two dental degrees to become an orthodontist; he first received his dental degree from Harvard University, then continued to receive his degree in orthodontics from Columbia University. Because of his education and experience, Dr. Corsa is an experienced specialist who strives to provide a high level of care for each patient. Our orthodontist and team stay educated on the latest dental techniques and technologies that help patients achieve straighter teeth and correct bites in a more comfortable manner. Some of these advanced treatments include Invisalign®, a revolutionary treatment to straighten the teeth in a discreet, more comfortable way.
How We Make A Difference
Many of our patients express how their orthodontic treatments have changed their lives. It is amazing how an improved smile can increase the self-confidence and happiness of both children and adults alike. Having a beautiful, confident smile makes it easier to smile, and more smiles equals better relationships and a more outgoing life!
Here at Corsa Orthodontics, we love what we do! We love helping to make a difference in others' lives and seeing the changes that a more beautiful smile can make. Seeing the transformation that our patients experience is why we come to work every day. We are excited to see the difference that orthodontics can make in your life!