Originally owned by Dr. Stephen Yao, Corsa Orthodontics has built a reputation as a warm, inviting family practice that has provided high-quality care for patients of all ages since 1994. Dr. Christopher Corsa furthers that reputation by utilizing the skills and experiences he cultivated as an orthodontist in Manhattan, NY, where he cared for the smiles of many high-profile public figures.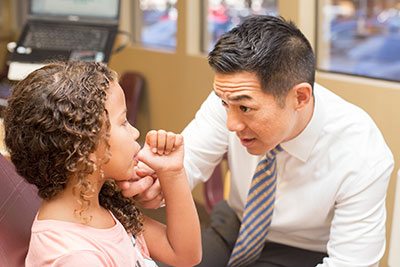 When you visit our office for orthodontic care, your smile is in the hands of highly skilled and experienced dental professionals. Dr. Christopher Corsa received an Ivy League education in orthodontics, performed research at both MIT and Cornell, and is a board-certified orthodontist in the top 1% of Invisalign® providers. Our team consistently furthers their knowledge by attending courses and lectures for the latest dental techniques and technology.
We strive to provide a comfortable, relaxing atmosphere for our patients by keeping our offices spacious and greeting each patient with a welcoming smile. Our younger patients can occupy their active minds with video games and coloring contents as they await their appointments, and everyone is invited to enjoy a fresh-baked cookie and complimentary beverage. If you are looking for a trusted, family orthodontist, we encourage you to visit our conveniently located orthodontic offices at our Camden and Moorpark locations in San Jose, California. Feel free to contact us today!
Caring and competent Orthodontic treatment since 1994
We are a full-service orthodontic practice providing the expert treatment you need to have straight and fully healthy smiles. Dr. Corsa has always kept up with the latest advances in orthodontics, attending advanced training as well as contributing to research in the field. He makes sure his staff is well trained and up-to-date on the latest in orthodontic care.
Education
Many consider orthodontics to be the most difficult section of dentistry. Dr. Corsa, as an experienced specialist in orthodontics, provides the level of care to do it right and for a lifetime. Close followers of the latest technologies in orthodontics, the doctors use modern methods to straighten teeth and adjust the bite. This includes Invisalign, a revolutionary technique to straighten teeth invisibly, more comfortably and sometimes quicker than traditional braces.
Education
Our patients often tell us how their lives have been changed as a result of improving their smile. Parents comment on their children's increased self-confidence and happiness. Having a beautiful, confident smile makes it easier to smile, and more smiles equal better relationships and a more outgoing life!
The main reason we come to work every day is to see the changes we make in people's lives. We love what we do and you will find us a happy and caring team and the office a fun place to come to.